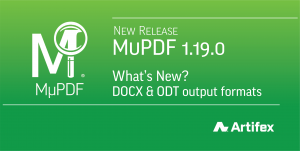 MuPDF 1.19.0 Release Notice
Excerpt: The developer of MuPDF, Artifex Software, has announced the release of its MuPDF 1.19.0.
---
About the author:
Lisa oversees all marketing initiatives for Artifex including brand, content, inbound and outbound, product, communications, and public relations. Prior to joining Artifex, she held a variety of roles in marketing, …
Read more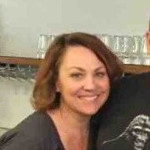 ---
Artifex Software is pleased to announce the release of MuPDF 1.19.0
Novato, CA October 6, 2021 – Artifex Software, Inc. developer of MuPDF is pleased to announce the release of MuPDF 1.19.0. Artifex is a trusted developer, partner, and provider of core technologies that drive PDF, print, file conversion, and document management solutions. We provide essential software tools to major printer manufacturers, SaaS and Cloud developers, and PDF tools/creation companies.
Highlights for this Release
Significant improvements to our digital signatures feature have been made, including the addition of appearance customization options, signature form field creation, and support for e-signatures. Other notable new features include:
Microsoft Word DOCX output format
ODT output format
<Undo and redo functions
Autosave and restore functions
Reflow document wrapper
Enhancements to OCR functions
Additional 'mutool run' and Java library functions
Added new Unicode scripts and fonts for EPUB
Support opacity for all markup annotation types
C++ and Python bindings now run on Windows
Python bindings are now available as pre-built binaries
Added demo PDF viewer using the Python MuPDF bindings and PyQt
The usual round of bug fixes, code hygiene, compatibility changes, and incremental improvements.
And more!
See the MuPDF 1.19.0 release notes for a full list of fixes and enhancements.
###
About MuPDF
MuPDF is a highly versatile, customizable PDF and XPS interpreter solution that can be used across a wide range of applications as a PDF renderer, viewer, or toolkit. The tiny footprint and lightning-fast performance make MuPDF a perfect fit for mobile browsers, eBooks, and embedded applications where small size is key. MuPDF is offered under a dual licensing model, Open Source AGPL, and a commercial license through Artifex, the exclusive commercial licensing agent for MuPDF.