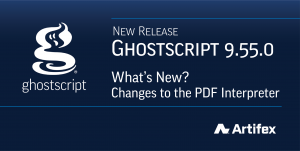 Ghostscript 9.55.0 Release Notice
Excerpt: Check out the latest release of Ghostscript, version 9.55.0.
---
About the author:
Lisa oversees all marketing initiatives for Artifex including brand, content, inbound and outbound, product, communications, and public relations. Prior to joining Artifex, she held a variety of roles in marketing, …
Read more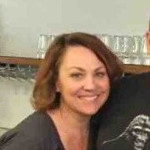 ---
Artifex Software is pleased to announce the release of Ghostscript 9.55.0
Novato, CA September 30, 2021 – Artifex Software, Inc. developer of Ghostscript is pleased to announce the release of Ghostscript 9.55.0. Artifex is a trusted developer, partner, and provider of core technologies that drive print, file conversion, and document management solutions. We provide essential software tools to major printer manufacturers, SaaS and Cloud developers, and PDF tools/creation companies.
Changes to the PDF Interpreter
For the past several years, the Ghostscript development team has been working on a "from the ground-up" rewrite of the PDF interpreter. This latest Ghostscript release includes the new PDF interpreter, implemented in C (rather than PostScript). The work is now feature complete, however, it is not yet the default PDF interpreter and requires action to enable. We encourage our customers and free users to try it out and send us feedback.
For more information about this significant update to Ghostscript, please see our blog post.
Highlights for this Release
The pdfwrite device now supports "passthrough" for JPX/JPG2000 data images (as well as the already supported JPEG/DCT Encoded), which prevents image degradation.
The Zugferd compliant PDF generating definitions (lib/zugferd.ps) have been updated and expanded to support the current version (2.1.1) of the Zugferd spec, and optionally different versions of the specification. See Creating ZUGFeRD Documents with Ghostscript for more information.
The PCL/m output devices now support Duplex/Tumble.
The internal support for "n-up" style simple imposition (introduced in 9.54.0) has been extended and improved for better support across all input formats.
The Ghostscript/GhostPDL demo apps for C, C#, Java, and Python have been improved and are now documented. See Ghostscript Language Bindings for more information.
Ghostscript now supports object-specific halftones – for example, different halftones can be specified for text and images, reflecting the differing needs of rendering those two types of objects.
Several sample apps have been developed and are available to evaluate. These are included with the Ghostscript project and can be found in ghostpdl/demos/java and ghostpdl/demos/csharp.
We have added the capability to build with the Tesseract OCR engine in version 9.53.0. In such a build, new devices are available (pdfocr8/pdfocr24/pdfocr32) which render the output file to an image, OCR that image, and output the image "wrapped" up as a PDF file, with the OCR generated text information included as "invisible" text (in PDF terms, text rendering mode 3). See Enabling OCR for more details.
And as always, the usual round of bug fixes, code hygiene, compatibility changes, and incremental improvements.
###
About Ghostscript
Ghostscript is the #1 Page Description Language (PDL) conversion tool available today. Ghostscript has the most comprehensive interpreter capabilities and flexibility of any software in its class, making it the industry leader in PDF, PostScript, PCL, and XPS rendering and conversion. Ghostscript's versatility, extraordinary color management, and speed make it a superior PDL solution for your print and document management needs. Ghostscript is offered under a dual licensing model, Open Source AGPL, and a commercial license through Artifex, the exclusive commercial licensing agent for Ghostscript.