Adobe Standards Support Endowment 2021
Excerpt: January XX, 2021 – Berlin, Germany. As part of its ongoing commitment to the development and adoption of ISO-standardized PDF technology, Adobe, a Partner member of the PDF Association, has announced that it will continue its PDF Standards Support Endowment program in 2021. The Standards Support Endowment will allow the PDF Association to maintain an accelerated tempo of standards development operations including support for development of new extensions to PDF, new PDF subsets, ISO meetings and … Read more
---
About the author:
The staff of the PDF Association are dedicated to delivering the information, services and value members have come to expect.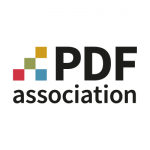 ---
January XX, 2021 – Berlin, Germany. As part of its ongoing commitment to the development and adoption of ISO-standardized PDF technology, Adobe, a Partner member of the PDF Association, has announced that it will continue its PDF Standards Support Endowment program in 2021.
The Standards Support Endowment will allow the PDF Association to maintain an accelerated tempo of standards development operations including support for development of new extensions to PDF, new PDF subsets, ISO meetings and more.
"Although the PDF Association already serves as the focal point for the PDF technology community, our endowment will enable them to increase their focus on the development of PDF itself," said Leonard Rosenthol, Adobe's Senior Principal Architect for PDF and a member of the PDF Association board. "Over a decade ago, Adobe turned PDF over to the ISO to enable the community to drive its future and with the PDF Association's newly expanded scope we believe that PDF will be able to address an even wider spectrum of applications".
"Since the PDF/A Competence Center became the PDF Association back in 2011 the PDF Association has constantly expanded our involvement in standards development," said Matt Kuznicki, PDF Association chairman. "Adobe's endowment is a chance for the organization to take our standards development work to the next level, attracting more members to drive and sustain awareness and adoption of ISO-standardized PDF technology."
The Adobe Standards Support Endowment in 2020 will be 149 000 Euros. All endowed activities are overseen by the PDF Association's Board of Directors.