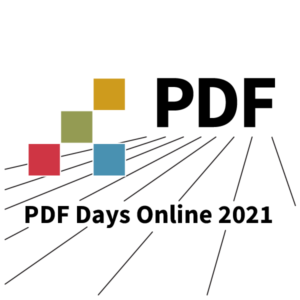 PDF Days Online 2021 is now!
Excerpt: PDF Days Online 2021 is brimming with up-to-date technical and educational presentations. If you work with digital documents there's a session for you.
---
About the author:
The staff of the PDF Association are dedicated to delivering the information, services and value members have come to expect.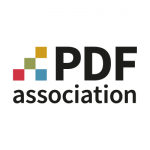 ---
Similar to last year's OctoberPDFest, PDF Days Online 2021 is a purely online event. Thanks to COVID-19, attendees who would normally have had to travel to Berlin and pay an attendance fee to spend 3 days talking about PDF can now simply sign up for free.
Technical Days sessions range from September 27 – October 18 at 1600 and 1700 CEST.
These 24 non-commercial educational sessions are offered by experts in PDF technology.
Solution Days sessions (most are 15 minutes) occur between October 19 and 25 between 1600 and 1730 CEST.
These 14 short presentations are offered by leading PDF technology companies to highlight a product or feature. Most sessions are just 15 minutes.
Can't make the times? Register anyway; we'll send you a recording of the presentation the next day!
Interviews with PDF Days speakers
We've been publishing short interviews with each of the speakers as a means of previewing their Technical Days sessions. The interviews published so far are:
C'mon, more webinars?
Many are disappointed that we were forced to cancel our in-person PDF Days Europe. Everyone misses the networking, relationship-building, and business opportunities that accompany live events. This will, unfortunately, have to wait for 2022.
At the end of the day, however, you might expect us to throw a great party ?;, but what the PDF Association is really all about is the latest information from the world's top PDF experts. That's what we aim to deliver during PDF Days Online 2021.
Check out the agenda; register today!
If you are a heavy user of PDF technology, develop with PDF, or build PDF applications into your products and services, the educational / non-commercial Technical Days sessions and Solution Days sessions of PDF Days Online 2021 are a great place to find inspiration and expertise. Check out the agenda for PDF Days Online 2021!
PDF Days Online 2021 sponsors
<!- View not found -><!- View not found -><!- View not found ->