New Application Note: Use of object metadata streams
Excerpt: PDF 2.0 Application Note 003 identifies precise locations for PDF objects' XMP metadata to help drive interoperability across all PDF creators and consumers.
---
About the author:
The staff of the PDF Association are dedicated to delivering the information, services and value members have come to expect.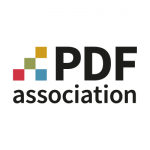 ---
Metadata's value derives from its interoperability. In the context of the PDF file format interoperability creator and processor must agree on where respective metadata resides within the complex internal structure of the Portable Document Format.
On the PDF document level and for some PDF objects XMP metadata locations are well defined in the specification, ISO 32000-2. For some objects, however, such as pages, page objects and resources such as fonts or ICC profiles, precise metadata locations aren't as obvious. In almost every case the PDF specification includes sufficient guidance, but not always as explicitly as possible.
PDF 2.0 Application Note 003 identifies precisely where PDF creators should add XMP metadata to PDF objects, and thus where PDF processors should search for it.
Many thanks to the principal authors; Boris Doubrov (Dual Lab) and Dietrich von Seggern (callas software) for their time and effort in creating this resource for PDF developers!